Reportizer reports offer you the following advantages:
Printing data from an open data set with most convenient way, including fonts, colors, object frames and so on
Easy report creation
Convenient report builder for visual report editing
Grouping records
Large set of functions for printing the system information, totals etc
Printing graphics (shapes, images from database and from external files)
Ability to save the report template for future use
The Report Builder includes the report template, Object Inspector and tree of report objects.
Report printing is available in the preview mode.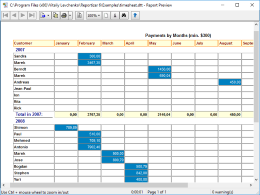 Report preview
In preview, it is possible to export generated report to file.
In main window, there is an ability to run the report preview in evaluative mode. This can be done by choosing Tools | Preview (Evaluative Mode) menu. This mode is useful when developing and testing large reports. It formats only few first pages and allows to evaluate page count for the report.
See also

Working with Command Line

Report Builder

Creating New Report

Grouping Records

Report Objects

Working with Report Template